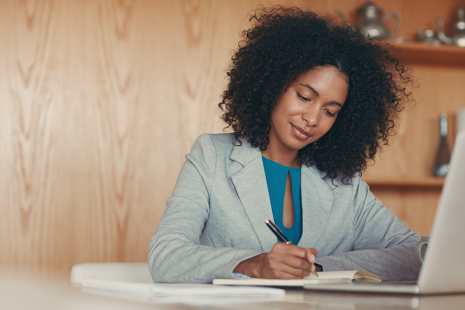 A good CV is so important as this is the first thing employers look at when you apply for a new job. Within seconds, employers decide whether to employ you or to reject you. We thought it would be helpful to go over CV tips to ensure that you are one step closer to securing your dream role. Here are our top tips.
Start your CV with your name, home address, phone number and email address. This is vital so that employers know how to reach you, should they want to arrange an interview or a phone call.
Your Education should come next on your CV. If you are currently in education then start with your current institution and mention what you are studying. You can include modules or subjects you are taking. Follow with your secondary education. Note: Only include postgraduate, undergraduate and secondary schools on your CV. You can include any societies, clubs and extra curricular activites you were a part of at these universities/schools. This will show that you are an 'all-rounder' which employers love.
The next section should be your employment history. Start from the most recent role to the least recent role but only include jobs and titles that are relevant to the role you are trying to secure. Include what your role entailed and any skills and achievements you gained while in these roles. Do not forget to include dates. If you have a gap in your CV, be prepared to explain why that is, in the interview. It's okay to say you were studying, took some time off to travel or to work on a project.
Next, include any voluntary work or projects that you are a part of. This could be probono work you do, tutoring or mentoring. Make sure you include these on your CV as it shows that you are a proactive individual and you like to keep busy and productive.
Have a section to include interests. You can put down writing, reading, networking, art etc. This shows the employer that you are an interesting individual and are someone they would like to have as a colleague. Employers want to hire interesting people who will get on with the rest of the team and make friends easily.
Make sure your CV layout is nice and easy to read/navigate. Leave spaces where necessary and highlight the sections in bold 'education', 'employment', 'voluntary work' etc. Always include a line that says 'references available on request'. Unless explicitly asked to include the reference, you do not need to. They can ask you when they need it and you can provide them with the details.
Make sure your punctuation and spelling is excellent and there are no mistakes on your CV. The document name is simple for example 'Edward Kato CV'. Keep your CV current – do not include very old job roles, espcially if they are not relevant to the role you are applying for. Your CV should mirror the job description. Have a look at the requirements for the job you are applying for and make sure you have ticked the boxes that the employer is looking for. Make yourself look good. Use key works and highlight your strengths.
Click the link below to join our network:
https://forms.gle/eFiJV7haZFyF9Yp4A